The Internet is an excellent source of learning for hydroponic beginners.
However, the information available is often contradictory and half-true. That's why we recommend investing time and resources in finding a great book to accompany you on your hydroponics journey.
There are plenty of books dedicated to hydroponics. In the following article, however, we will focus on those suitable for beginners.
We've selected and reviewed eight books, each aiming at giving the reader a deep understanding of how growing hydroponically actually works. Hopefully, you'll find just what you've been looking for on our list.
Let's go through them one by one.
Is there One Book That Covers Everything?
Before checking out the list of books found that are helpful for beginners, it is worth noting, there is no "Bible of Hydroponics."
This is because all systems and growing areas are different, and can be affected by any slight change. Most books are general in their view, and even then it can take some experience to know what to use from the books, and how the content meets your needs.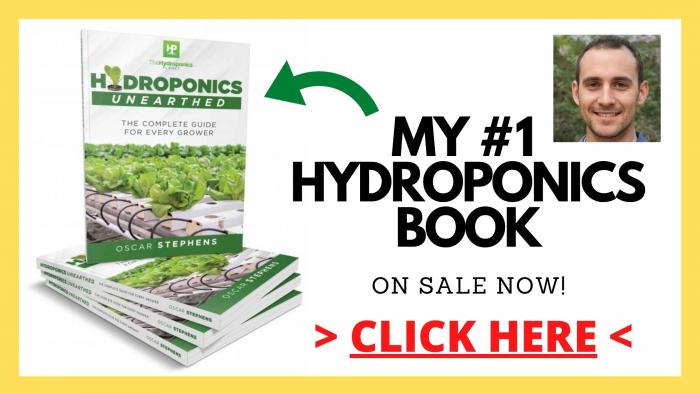 It might be the case, some of the books delve into specific areas in depth, or their focus throughout is on one area of Hydroponics rather than a complete guide.
In many cases, you might need more than one book to understand the basics and get started. Most of the books listed use the word "beginner" in very different terms, and if you already have some understanding of hydroponics, then one or two from the list might be beneath your knowledge.
---
UPDATE
Since writing this article, I've compiled all the information I've learned about hydroponics and smashed it into one huge ebook (PDF) which you can get here. Even better – it's currently on sale!
I might be biased – but I think it's the best all-around hydroponics book for anyone, and especially for a beginner.
---
Hydroponic Books for Beginners
Hydroponics: Hydroponics Essential Guide
The Step-By-Step Hydroponic Gardening Guide to Grow Fruit, Vegetables, and Herbs at Home (Hydroponics for Beginners, Gardening, Homesteading, Home Grower)
This book was first published in 2016, and ranks highly in some of the categories it has been entered. It weighs in at 136 pages, and the author is Andy Jacobson.
While checking customer reviews, plenty state the author has made a great introduction into Hydroponics and covers the basics for individuals who know nothing about growing plants this way.
The author has included sections on the following:
What is Hydroponics?
Choosing a Hydroponic Medium
Types of Hydroponic Systems
Plant Nutrition – Learning and Selecting
Your Perfect Lighting Solution
The Growing Process
Creating Your Own Hydroponic System
Crops Most Suitable to Hydroponic Gardening
Pest Prevention and Troubleshooting
Conclusion: Last But Not Least
Bonus section: Starting a Hydroponics Business
The author of Hydroponics: Hydroponics Essential Guide, has done an excellent job of giving simple-to-understand diagrams and pictures. His explanations are clear, but a little text-heavy in some sections. All in all, it is a good introduction, and when followed in the steps it is written, any grower can be up and running with the least amount of effort.
The book is available in electronic format, or for readers who prefer something they can hold for quick reference, it is also available in paperback.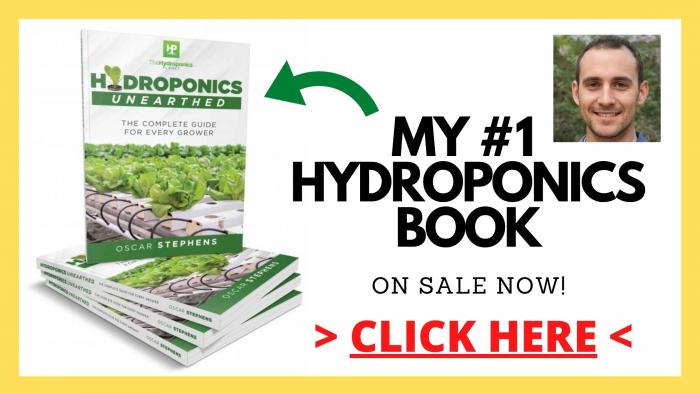 How-To Hydroponics, Fourth Edition 4th Edition
This How-To Hydroponics is only available in paperback, is well constructed, and covers a lot of subjects. Although aimed at beginners, it is comprehensive and can be a good reference guide for growers looking to grow produce for self-sufficiency or delve into commercial hydroponics. It comes in at 101 pages, and the fourth edition was the last update which was back in 2003.
This could leave some information a little outdated, but many areas covered will still be highly relevant. All chapters are broken down in the table of contents as you would expect from a paperback, and from here you can quickly find an area you wish to read.
The author (Keith Roberto) covers the following topics in his chapters:
What is Hydroponics?
Growing Mediums and Technology
Plant Nutrition
Lighting
Building your own system
Raft systems and Aeroponics systems
PVC systems and Dutch buckets
Indoor gardening
This is only a handful, and almost everything is covered with plenty of detailed instructions, steps by step plans, and accompanying pictures and diagrams. Given the price of the book, for an introduction, it might be too much, and there are some not-so-favorable reviews. However, there is plenty of information that any new grower would be happy to know.
DIY Hydroponics: 12 Easy and Affordable Ways to Build Your Own Hydroponic System
(Urban Homesteading Book 2)
This is a very well-thought-out book and runs new growers through all they need to know about hydroponics and how to build and maintain a DIY hydroponic garden. Richard Bray simply explains things with easy-to-understand diagrams of the six types of Hydroponic systems. From this, he goes on to explain how growers can build a total of 12 different systems using around-the-house materials.
This DIY approach gives growers the chance to learn about Hydroponics as they build one of the simple systems, he also explains the components and how they affect the running of the system, and how plants will be affected by this.
Later book chapters cover growing medium, nutrient solutions, and lighting, maintaining your system, and potential problems a grower could face. All of this is explained in simple terms, and it should be easy for any new grower to understand.
DIY Hydroponics contains 147 pages and is available in eBook format or paperback. It also ranks at the top in three categories where it is entered. Customer reviews are also very favorable, and it receives four and a half stars out of five, and this is quite an achievement because the book was only published late in 2018.
For any grower who is contemplating building a Hydroponic system, this book can give some helpful insight on how the different types of systems work, and how to maintain these once they are up and running. It will be more suited to would-be growers who have very little or no understanding of Hydroponics. Individuals who have little knowledge might find the book lacking in information, or that it is written too basic to offer them anything.
Hydroponics: The Definitive Beginner's Guide to Quickly Start Growing Vegetables, Fruits, Herbs for Self-Sufficiency!
(Gardening, Organic Gardening, Homesteading, Horticulture, Aquaculture)
This book can serve as a step-by-step guide for growers looking to grow their own fresh produce. It gives a basic overview before heading into a soil vs. Hydroponics chapter. From then it gets into choosing a hydroponic system where it explains the six system types, and their components.
In the following chapter Michael Martinez the author explains how growers can build their own system. Unfortunately, he only offers one method, the drip method. For some new growers, this system type might not be what they intended, and they could be tempted to skip this.
The book then offers three cheat sheets for fruits vegetables and herbs before it explains how to plan your system, and then maintain it.
The last two chapters of Hydroponics: The Definitive Beginner's Guide covers common mistakes that are made by new growers, and then how to troubleshoot problems in a system. One nice touch was he separated pests from mold and algae into different sections, and how to deal with both.
This book is quite well received and has over 70 customer reviews. While being available in both eBook format or paperback, it gives growers the option and can be good reading for anyone who is new to the world of Hydroponics. It crams in quite a lot of information into the 77 pages, but it does lack diagrams and is mainly text-based. This could be a little too much for complete novices as they might not be able to relate to the parts and equipment described.
Hydroponics: From Beginner to Expert
Homegrown Organic Gardening Double Book Bundle – Ultimate Guide to Hydroponics & Organic Vegetable Gardening For Aquaponic systems, Horticulture, Homesteading)
The author William Walsworth has done a good job of covering things in a very readable format and can be great for newer growers. He has actually made a double book deal so there is another book on Organic gardening that can be useful to read.
There are 204 pages between both books, and it is available in both eBook format, and also paperback with the price being more than reasonable for two books in the electronic version.
The good thing about the way this book is written, the author presents things slightly differently. He begins with why choose Hydroponics, and then he describes the six system types. From here he moves onto hydroponic basics which covers hydroponic nutrients, water, growing media, plants, and hygiene.
The best parts are the following chapters where he takes each system type and goes into detail about the equipment needed, installing the system, and how to grow in each model. This can save new growers time flicking backward and forward and searching for information that relates to their hydroponic system of choice.
The final chapter covers maintaining your garden and troubleshooting. This might focus more on how to support your system, and all of the problems are from the system and not from any outside pests.
The book comes with some images which enhance his writing but are not enough information given where they can be used for reference.
Customer reviews are favorable, and it receives almost top marks, but the number of reviews isn't that high. All in all Hydroponics: From Beginner to Expert is a good read, and it is more geared toward new growers than leading them toward becoming an expert.
Hydroponics: Beginner's Guide to Effective Hydroponic Gardening at Home
Gary Carter, the author of the Beginner's Guide to Effective Hydroponic Gardening at Home has done an excellent job in outlining his information with simple and clear diagrams. He covers most topics which include:
Lighting – Artificial & Natural
The Nutrient System and The Climate
The Pests and Plant Growth – "Not Good"
Leaf Growth and The Seedlings
He begins with an introduction followed by the components of a system. This he follows by how you go about setting up a system in your home.
He then has separate chapters for 'Growing charts,' which cover Herbs, Vegetables, and Fruits. He then explains the system equipment, with a final chapter about how to beautify your home.
The information contained is basic and does explain much of what you need to get a system up and running. From that point, the book can leave you, and when it comes to maintaining your system, and what to do to fix problems, you might need another point of reference.
The author has done an excellent job in giving information to growers who are entirely new, and that is how the book needs to be received. Customer reviews all lead you to this conclusion, and for the electronic version compared to the paperback version, it could be worth the small price.
Hydroponics: Hydroponics Gardening For Beginners
A Simple User Guide To Grow Hydroponics Herbs And Vegetables At Home (Hydroponics, Hydroponics Gardening)
For every new user to Hydroponics, Sherry Forrest delivers what she says in the title of her book Hydroponics Gardening For Beginners, a simple user guide, and that is what you get. This is ideal for would-be growers who need to know the very basics of Hydroponics.
Sherry describes the basics of each component in a system and goes on to describe lighting and growing medium. She follows this with an explanation of each system type and again goes a little further in-depth about all of the growing mediums that can be used.
She then spends a chapter on water, lighting, and nutrient temps, before following up with the secrets to growing herbs and vegetables. This chapter includes pH testing, sanitation, and pest control.
The final chapter gives some pro tips to beginners, and some mistakes to avoid.
The book is only 78 pages in length, but might be the ideal length for a basic introduction to Hydroponics. Customer reviews are favorable, and she gets 4 out of 5 for her effort. The book is available in both paperback and eBook format, and the latter version is the recommended one. For growers who are looking for a point of reference to solve issues, then this book isn't the one to keep close in your growing room.
It does explain a few things in the purest form which can be a good start for users before they move onto more detailed information.
Hydroponics Beginners Gardening Guide
How to Start a Hydroponics Growing System Step by Step
The last book on the list happens to be the smallest and comes in at 66 pages. It is available in both paperback and eBook format so it can be handy to keep with you while you are in your growing space. Customer reviews give it 4 out of 5, so they are favorable.
Areas covered by the author are as his chapter headings:
Introduction
Growing medium
Water
Hydroponic Nutrients
Hydroponic Systems
Conclusion
The Hydroponics Beginners Gardening Guide is a little light on diagrams which would have been useful for new growers, but it explains things simply, so it is an easy read without getting too heavy with information. Simon Hamilton, the author, claims new growers will gain enough knowledge of each system, and which one they will find best suited to their growing needs.
He also says growers will see how to set up their own system without spending a fortune. For a brief introduction, it is a quick read and can give some useful insight into the world of Hydroponics, but a reader who is keen on building a system will quickly outgrow the information it contains.
Conclusion
When taking a look at these books, you should find one which meets your needs. A lot does depend on your level of understanding and if you already have a good idea of how Hydroponic systems work.
The main criteria for choosing any of these books is how far you wish to go with your growing, and what type of system you want to build. Like anything related to Hydroponics, it is helpful to do some homework before committing to any of these books.
It might be the best book for you is one that is more comprehensive, and covers lots of topics like either Hydroponics: From Beginner to Expert or Hydroponics: The Definitive Beginner's Guide. Both of these cover enough for your first steps, and they are handy for further points of reference later.
Either of these could be an excellent accompanying book to the DIY Hydroponics: 12 Easy and Affordable Ways to Build Your Own Hydroponic System. Although you might want to purchase a system you can have up and running, this book does a good job explaining the ins and outs of building your own system